ALBUM REVIEW: The Controversy 'Don't Count On Me'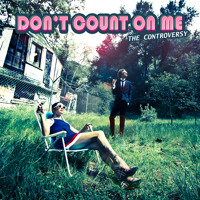 The Controversy' Laura Vall is among a growing group of female lead singers who recall Grace Slick in her prime. These women, who range from The Peach Kings' Paige Wood to Lana Del Rey, embroider their powerful alto voices with bent pitches and strong vibrato. But what sets The Controversy apart is its seamless mash up of electronica with psychedelic rock.
Though Vall channels Slick throughout most of Don't Count On Me, in "Luna," the fifth track, she returns to a softer, more lyrical style last heard in The Controversy's debut album, Real. The Spanish-language song, the only non-English track on the album, incorporates bells reminiscent of gamelan. Listening to "Luna," reminds me of Lhasa De Sela or of Nikos Xydakis' collaborations with Melina Kana.
The effort then dives head first back into psychedelic electronica with "Fly," built upon Thomas Hjorth's strong electric guitar and Vall's bending pitches. This song stops abruptly, almost without a resolution, heightening an anxious tension consistent with the album's sensibility. Yet, the album remains cohesive, thanks to the marriage between Vall's voice and the synth-like instrumentals.
The album's lyrics, though disturbing, are provocative. The opening song, "Two Voices," fluctuates between disturbing, and uplifting:
At times I still feel that chill
Crawling through my spine, it's caving in.
All the walls are closing on me,
Don't wanna give in, don't give in.
leads directly into
Let it out, howl at the night. 
Two voices to release 
Get it out, laugh at the fright 
Two voices for relief 
Although it's hard to write such honest lyrics without being sentimental, The Controversy succeeds.
They do the same with "Queen of Chinatown," :
High heels in his hands, 
Street lights his last companions. 
Boys down the street, 
Shouting him some loving. 

As the boys' laugh and their hands hunt Aima down 
Fast the blade goes 
Aima's life fades away, fades away 
But he smiles, and, sings 
It's lyrics like this that earned The Controversy their 2012LGBTQ Person of The Year award.
Don't Count On Me, their sophomore album, is a complete 180 from Real, their debut alt. rock project. It takes risks by drawing from a number of different genres. I can't predict what genres they will explore next, but I know The Controversy will be a band to watch!
To hear more from them, you can purchase a CD or buy concert tickets here.
Please follow and like us:
The following two tabs change content below.
Co-editor of this fine publication and loving every minute of it. Music is my life as seen by all of my usernames. When I'm not doing music, I'm watching netflix or talking about poetry. Native to sunny city by the beach, English major in one of the rainiest cities on earth.
Latest posts by Ariella Laichas-Malamud (see all)