Behind The Curtains Media Announce SXSW Showcases
Behind The Curtains Media, SwitchBitch Records and Rocker Stalker have partnered to host two, free, action-packed South By Southwest showcases.
The showcase will kick off on March 17 with a 16-band bill at Hole In The Wall in Austin, Texas. Some of the groups scheduled to play are progressive rock outfits Hail The Sun, Oranges, Icarus the Owl and Stolas, as well as the gritty rock n' roll of The Courtesy Tier, The Skulx, Flannel Mouth, Good English, and The Wans.
On March 18, there will be a day show from 2 p.m. through 8 p.m. at Big Bang Bar. This showcase will include performances from Flannel Mouth, The Wans, Fable Cry, The Courtesy Tier, and Good English.
Check out the complete event posters, below, and let us know who you're excited to see.
As a special bonus, a handful of the groups donated merchandise to giveaway to fans. To enter the giveaway, all you have to do is complete the two easy steps here.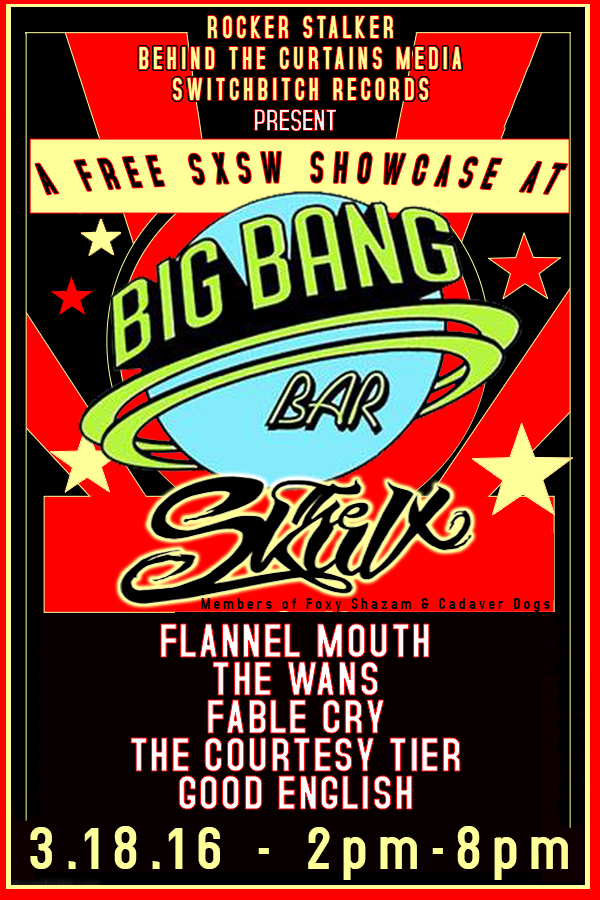 **Prizes**
The Skulx: Flast and shot glass
Oil Boom: 7″ vinyl record
The Black Atlas: T-shirt
Hooka Hey: Untamed CD + sticker pack
Stolas: Stickers + Allomaternal CD + singed poster
Oranges: Taxonomy CD
The Courtesy Tier: EP CD + Stickers
Good English: signed poster + CD
Hail The Sun: T-Shirt
Icarus The Owl: Pilot Waves CD
Fable Cry: S/T CD
Flannel Mouth: The Prisoner's Cinema CD
SwitchBitch Records: Compilations CD samples + sticker pack
Please follow and like us:
The following two tabs change content below.
Angie is a Boston-based music photographer, journalist, and marketer. Catch her out and about at local shows and drinking more coffee than she should
Latest posts by Angie Flores (see all)