LIVE REVIEW: Neon Trees, Smallpools, Nightmare And The Cat Detroit, MI
by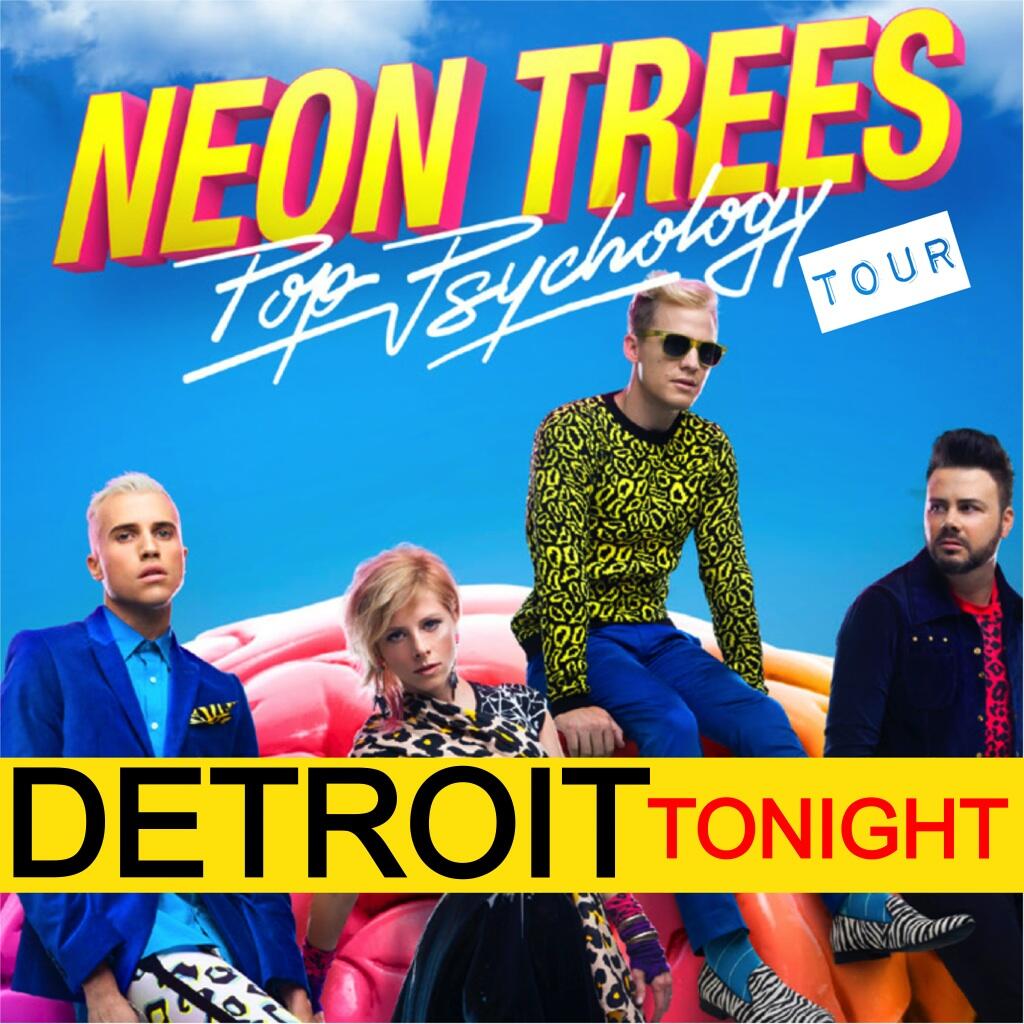 The Fillmore with its elaborate décor, definitely lends itself to a theatrical show. The Pop Psychology Tour definitely lives up to this.
Nightmare and the Cat, the first opening band, completely control the stage. Lead singer Django Stewart, comes out in heeled boots, eyeliner, mascara and glittery eye shadow, making me do a quick double take to make sure David Bowie hasn't had a second coming. He moves fluidly through each song like a ballet dancer or aerial artist.
Both Django and his brother, Samuel Stewart, (guitar) hail from London and Los Angeles. They mix the LA chilled rock sound with a London accent. Many British rock stars drop their accents when performing. Not Stewart. Like Alex Turner and Matt Healy, he embraces it. They end their set with "Undercover," which allows the audience to sing along.
When Smallpools take the stage, they begin with "Mason Jar" and "No Story Time," both on their self-titled Ep. Sean Scanlon, lead singer, jokes that they had just played half their songs. Which although true, means fans can look forward to the release of their full length album soon. Scanlon introduces "Killer Whale," an unreleased song, by saying that since they wrote the song, there have been many comments on different forums about how killer whales are being kept in small pools. They jokingly assure the audience that their band name has nothing to do with captive animals. Everyone sings along to "Dreaming," as the band closes out their set. Even though many people don't know the words, they make up their own.
As soon as Smallpools finish their set, Neon Trees' crew hang a huge white sheet from the ceiling, completely concealing the stage. For the first minute of the set, all we can see is silhouettes backed by blue light. Finally, during the first chorus of "Lessons in Love," the sheet falls in a wavelike fashion, revealing lots of brightly colored lights and lead singer Tyler Glenn striking a runway pose.
Glenn knows how to command an audience's attention.  He wears a bright colored suit and Docs. Throughout the show he makes about six costume changes, each one more colorful than the last, and each including a new pair of Docs. He dances throughout the show, shifting between laying down, to bouncing around the stage. Elaine Bradley, drummer, sings lead vocals on "Mad Love" with Glenn. Her voice compliments his, and she reacts effortlessly to his unplanned movements.
Glenn makes every single fan feel like they've known him for years. All the stories he tells on stage are very personal. When he talks about finally feeling comfortable with himself, the second he says the word "gay" the entire audience erupts into cheers. He stops us saying "Don't scream for the gay man, scream for being yourself." Such a simple phrase but with a really important message. After the concert a boy comes up to Glenn, thanking him for what he said and what he stands for.
Towards the end of the set, they play "Sleeping With a Friend," and Glenn crowd surfs. It always impresses me when artists shows such trust in their fans not only to carry them, but to be respectful. This shows who Glenn is as an artist and a person.
During the encore, with a giant blowup brain on stage, they play "Everybody Talks,"  probably their best known song. While the audience sings along at the top of their lungs, Glenn just stares at us and smiles. His smile shines all the way to the back of the theater. He says concerts should be an interactive experience between the audience and the band. To him, we are the show as much as he is.
You can purchase a CD or buy concert tickets here for Neon Trees.
You can purchase a CD or buy concert tickets here for Smallpools.
You can purchase a CD or buy concert tickets here for Nightmare and the Cat.
Please follow and like us:
by
The following two tabs change content below.
Co-editor of this fine publication and loving every minute of it. Music is my life as seen by all of my usernames. When I'm not doing music, I'm watching netflix or talking about poetry. Native to sunny city by the beach, English major in one of the rainiest cities on earth.
Latest posts by Ariella Laichas-Malamud (see all)