Riot Fest Announces More Dates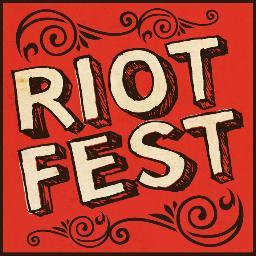 Riot Fest has announced that they will be in Toronto on September 6 and 7, Denver on September 19-21, in addition to the September 12-14 Chicago stop. This year will be the fest's ten year anniversary. This year's line up has yet to be announced but past years included Rise Against, Blink 182 and Violent Femmes.
Who would you want to see? Personally, I'm dying to see Rise Against on stage since they'll have a new album coming out later this year. You can buy concert tickets here once sale dates are announced. Check out the message straight from the Riot Fest after the jump. 
Riot Fest is back at it again! We're hard at work putting together three rock & roll carnivals that will hit Toronto, Chicago, and Denver. To kick things off, we're coming through Toronto September 6 & 7, then on to Chicago to celebrate our 10 year anniversary September 12-14, and wrapping up the party in Denver September 19-21.
With the help of friends and partners at Union Events and Soda Jerk Presents, Toronto and Denver will feature an expanded footprint with more carnival rides and attractions, diverse food options featuring regional offerings, and more. There are even capital improvements in the works for Denver, including a redesigned camping area and renovations to the grounds that includes parking. Traffic plans will be revised for faster flow in and out. In celebration of Chicago's 10th anniversary, plenty of special events and surprises will be released soon.
Lineup and tickets are coming soon. For up to date news and announcements, stay tuned here:
RIOTFEST.ORG
FACEBOOK
TWITTER
NEWSLETTER
Please follow and like us:
The following two tabs change content below.
I spend way too much time planning out which concert I want to go to next.
Latest posts by Ashley Bulayo (see all)