10 Year Anniversary Tour Coming For Cute Is What We Aim For
2006 was a much simpler time, where pop punk was king and we all loved the fad of skinny jeans, eyeliner and going absolutely everywhere with straightened bangs and our favorite music playing. The year of 2006 also marked the release of one of the most iconic albums from Cute Is What We Aim For, Same Old Blood Rush With A New Touch.
With tracks like "Curse Of Curves", "Newport Living" and "There's A Class For This" there was something special about this debut album that the fans eagerly latched onto.
Frontman Shaant Hacikyan spoke fondly about the album when the band announced the anniversary tour stating, "10 yearrrrrrs! This is so surreal. I'm not entirely sure what to say about a record that turned our lives into a movie for a few years other than to thank you from the bottom of my left side for making it possible and allowing us to live a dream one more time this fall."
Now with a decade passing since the album's release, the band have announced a huge headlining tour for the 10 year anniversary beginning in September for the USA, but will be hitting Australia for tour in just a few months with shows beginning in August.
Check out the full tour dates below the jump (and dates where fans can vote for their city to be a stop via fanbassador/facebook), buy concert tickets here and relive some old Cute Is What We Aim For favorites by purchasing any cd here!
Sep. 13 – Hamden, CT
Sep. 14 -New York, NY
Sep.15 – Philadelphia, PA
Sep. 16 -Fanbassador.com Show
Sep. 17 – Chapel Hill, NC
Sep. 18 – Fanbassador
Sep. 20 – Atlanta, GA
Sep. 21 – Jacksonville, FL
Sep. 22 – Orlando, FL
Sep. 23- Gainesville, FL
Sep. 24 – Mobile, AL
Sep. 25 – Fanbassador Show
Sep. 26 – Fanbassador Show
Sep. 28 -Nashville, TN
Sep. 30 – Oklahoma City, OK
Oct. 1 -Dallas, TX
Oct. 3 – Albaquerque, AL
Oct. 4 – Pheonix, AZ
Oct. 5 – San Diego, CA
Oct. 6 – Pomona, CA
Oct. 7 – Los Angeles, CA
Oct. 8 – Fresno, CA
Oct. 11 – Portland, OR
Oct. 13 – Boise, ID
Oct. 14 – Salt Lake City, UT
Oct. 15  -Colorado Springs, CO
Oct. 17- Des Moines, IO
Oct. 18 – Minneapolis, MN
Oct. 19 – Chicago, IL
Oct. 20 – Grand Rapids, MI
Oct. 22 – Fanbassador Show
Oct. 27 – Buffalo, NY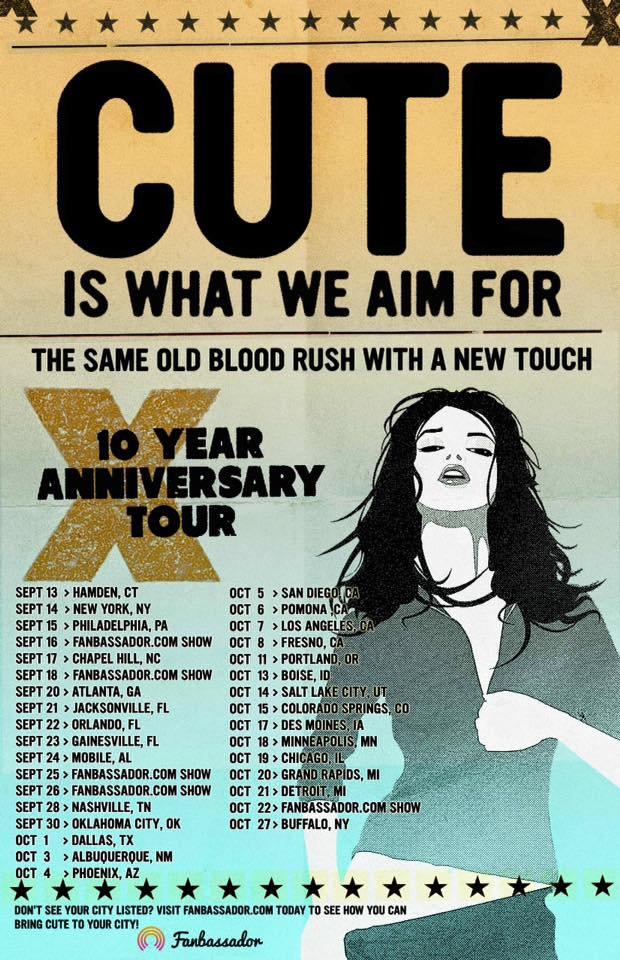 Please follow and like us:
The following two tabs change content below.
Kerry Uram
Cats, punk rock and coffee run my life. I like to fangirl about music and share my adventures with our readers! - Pittsburgh, PA -
Latest posts by Kerry Uram (see all)