Made In America Los Angeles And Philadelphia Lineups Announced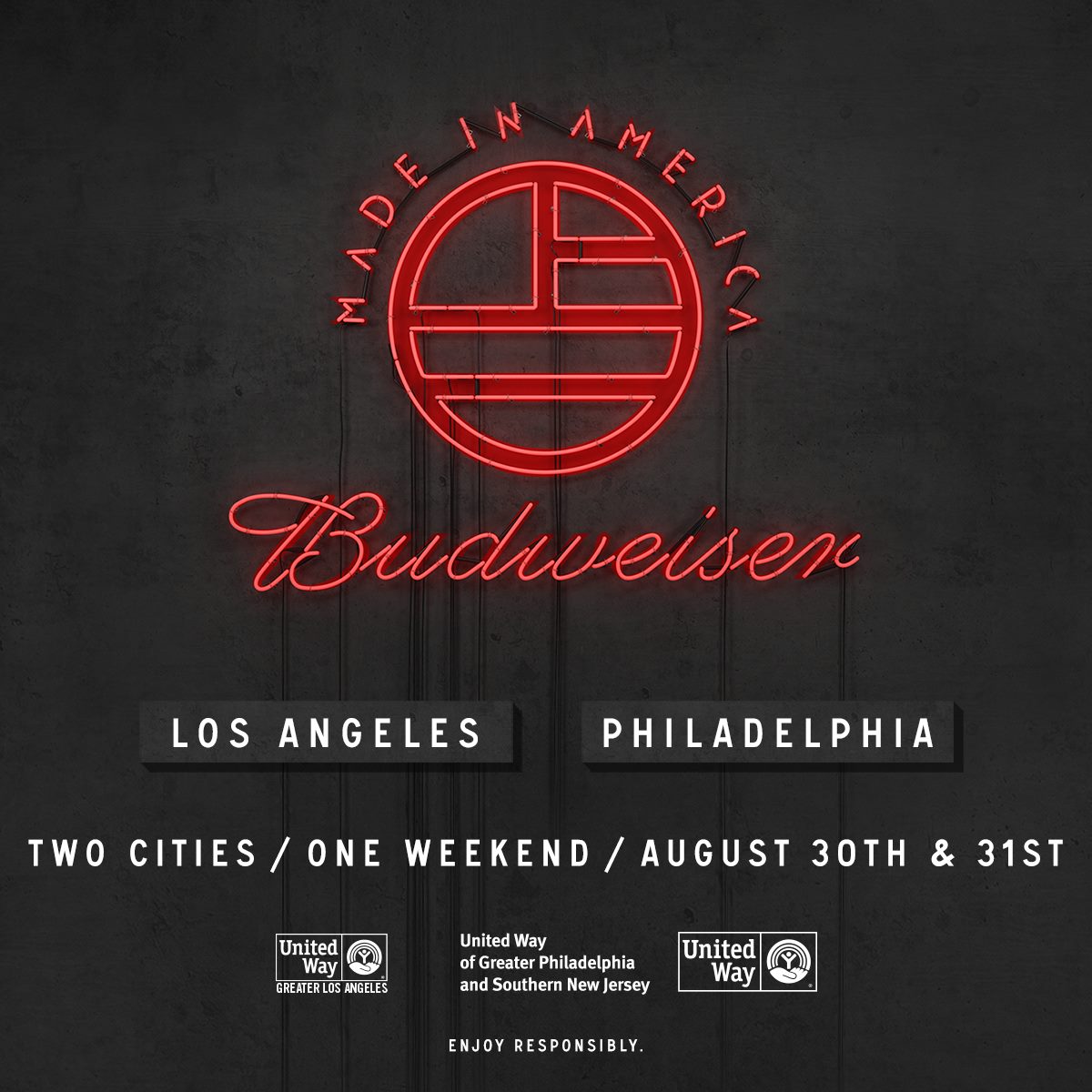 The lineups for both Los Angeles and Philadelphia's Budweiser Made In America festivals were announced today. While some bands playing in Philadelphia have yet to be announced, the entire LA lineup was released this afternoon. Imagine Dragons and John Mayer will be headlining the Los Angeles festival while Kanye West and Kings Of Leon will headline the Philadelphia festival.
This festival has been annual in Philly for 3 years but this is the first year the festival will take place in Downtown Los Angeles. Both festivals will happen simultaneously August 30-31, Labor Day Weekend.
You can see the full lineup of the LA festival and the in progress lineup for the Philadelphia festival after the jump.
Two day passes for the Made In America festivals are now available for purchase and VIP for both festivals will be available soon. You can buy concerts tickets here. 
And don't forget to purchase a CD from your favorite bands in the meantime to help yourself get pumped!
Philadelphia Lineup:
Kanye West, Kings of Leon, Tiësto, The National, Steve Aoki, Pharrell Williams, J. Cole, Girl, Talk Spoon, Chromeo, City and Colour, Grimes, Awolnation, R3hab, Gareth Emery, De La Soul, Baauer, Tommy Trash, Mayer Hawthorne, Kongos, 3lau, The Neighbourhood, Danny Brown, YG, Holy Ghost, Penguin Prison, Destructo, Bleachers, DJ Cassidy, Cherub, Will Sparks, Young and Sick, Vacationer, Cut Snake, Kane Holler, and more.
Los Angeles Lineup:
Imagine Dragons, John Mayer, Steve Aoki, Juanes, Afrojack, Kendrick Lamar, Rise Against, Weezer, Sublime w/ Rome, Metric, Capital Cities, Chance the Rapper, Cypress Hill, Gareth Emery, R3HAB, Schoolboy Q, Wolfgang Gartner, Borgore, DVBBS, 12th Planet, YG, Mute Math, Rita Ora, Nipsey Hussle, Dr. Dog, Terraplane Sun, ZZ Ward, Classixx, Hit-Boy, DJ Mustard, Ab-Soul, Isaiah Rashad, Jay Rock, SZA, Yellowclaw, Grits & Biscuits, Will Sparks, Cut Snake, Scavenger Hunt, A Tribe Called Red
Please follow and like us:
The following two tabs change content below.
Co-editor of this fine publication and loving every minute of it. Music is my life as seen by all of my usernames. When I'm not doing music, I'm watching netflix or talking about poetry. Native to sunny city by the beach, English major in one of the rainiest cities on earth.
Latest posts by Ariella Laichas-Malamud (see all)